brake light for inline skates
a 'must' in group skating events!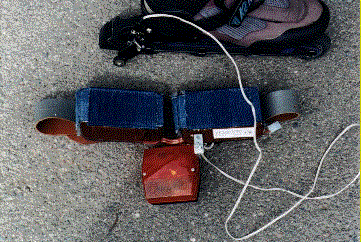 An efficient braking indicator for inline skates. No crashes any more when braking. Very impressing device. An ultimate show device at night.
lights when using the heel brake
can be used on both skates
does not affect normal skating nor braking
powerful light - already manufactured with powers up to 26 W
mounting without modifications on skates
Brake lights are constructed only on order. The customer can choose the size, style and power almost freely.
power supplies from 2 * UM-3 (AA) regular to 12 V 3 Ah sealed lead-acid battery
size and output power depends on the battery type
price about EUR 10 ... EUR 80 depending on the battery
Important note: Brake lights are not available anymore due to insufficient manufacturing facilities!