"Bit of pipe" game for Nokia phones

Great puzzle game from 1980's is here!

Game matches the original "Bit of pipe" for Commodore 64 as far as possible

Completely new, realistic flow algorithm

Fast forward mode to avoid long waiting for the final score
Game numbers allow playing same random game again
Fluid flow cannot be completely blocked, making fields more equivalent (new feature in DCT-3 version 1.10)
Leak-proof solution guaranteed for all games (since version 1.20)

This is a reincarnation of "Bit of pipe" game from 1980's. Bit of pipe was originally published as a program listing for Commodore 64 computer in a Finnish home computing magazine MikroBitti in May 1989. Now it is available for DCT-3 phones, too!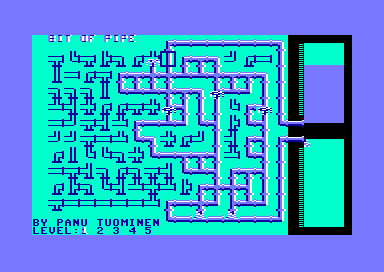 "An explosion has ruined a pipeline on the chemical plant. You are the only who can prevent the disaster and build an temporary connection through the explosion area. However, the pipe pieces are so heavy that you cannot carry them around: the only thing you can do is rotating the pipe pieces in place and try building a solid pipeline that way. The larger amount of fluid is collected, the larger will be your score."
Game controls [use 3(6)...c(n) on Nokia 5510]:


| | | | | | |
| --- | --- | --- | --- | --- | --- |
| 1 | 2 | 3 | Move the cursor | 5 | Rotate pipe clockwise |
| 4 | | 6 | | * | Toggle "fast forward" on/off |
| 7 | 8 | 9 | | UP/DOWN | Pan the display vertically |
Use the "fast forward" mode to speed up the fluid flow when you are finished with your pipeline and do not want to improve it anymore. The tank level (m³) indicators blink when "fast forward" is active.
Compiled for last official NokiX Scripts snapshot 6.10.2006, may work also with newer ones.

Requires a Commodore 64 computer or emulator, e.g. Frodo.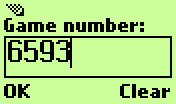 By default, a random game is started. If you are not satisfied with your result, you can play the same field again by entering the game number. This allows also fair head-to-head competitions using one or more phones by specifying the same game number for all contestants.
CAUTION: Trying to modify the built-in firmware of a mobile phone may make it practically unrepairable. This applies especially to phones that does not have a separate EEPROM chip for settings and calibrations (e.g. most Nokia 3xxx phones). Before trying to update the flash memory, you need to understand the functions of your flashing program and the whole flashing process, including any checksum updates required. NuukiaWorld does not give any support in flashing-related questions.
24.3.2010

nuukiaworld@gmail.com
No email support or answers to technical questions.
To see NuukiaWorld's finest appearance, update your web browser!