Storage shelf for inline skates
Assemble a practical storage solution by yourself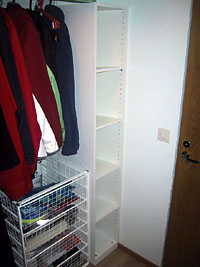 It is usually difficult to store the inline skates, especially if there are several skaters in the family. The dusty skates are not welcomed to anywhere, so they are usually left close to the door. A storage unit for inline skates saves space and keeps the other items clean of the dust. You can quickly assemble a practical skate shelf using
IKEA's
products.
The basis of the storage shelf is a 30 cm wide and 36.5 cm deep VÄTTERN bathroom cabinet frame, whose height is about 179 cm (product no.: 20075184). This frame can be used to store 4 – 5 pairs of full-size skates. The width of each shelf is slightly less than 27 cm, so the skates will stand up but it is still easy to put them in there. The assembly procedure is easy, but the frame is so long that it is good to have another person helping you.
High VÄTTERN cabinet frame ready for the skates. (In this photo the legs are replaced with a custom-made plinth.)

Because the heel brakes of the skates will protude from the shelf, you cannot use doors with the frame. This also helps air circulation around the skates. However, legs are recommended because adjustable legs helps you in setting up the frame. The cheap VÄTTERN legs (product no. 20074250) are a good choice.
Each pair of skates has their own shelf. This helps keeping dirty skates away from other things.


The bathroom cabinet is converted into an inline skate storage shelf simply by installing the shelves in a tilted position. This ensures that the skates cannot accidentally slide out from the shelf. – The best way is to use four shelves and install them as shown in picture on the right.
The shelves itself can be white ANORDNA shelves (size "30x37 cm", product no. 70074163 / 2 pcs.) or ANORDNA glass shelves (size "30x37 cm", product no. 30047874) – The security glass is hard enough for this purpose and it is easy to keep the glass shelves clean.
Tilted shelves ensure that the skates cannot slide out from the frame. The numbers in the picture tell the holes used by the shelf supports.

No special modifications to the IKEA components were required. Now just pick up your skates and put them in your new skate shelf. They will never soil your clothes or other items anymore!