Arja Koriseva in a nutshell
History and trivia

Arja Koriseva is a famous singer in Finland. Mainly Arja is known as a singer of Finnish tango and other music used in Finnish dance pavilions. However, the scale of music styles that Arja masters is naturally larger.
Arja is a pop music signer who has continuously trained her voice with a singing teacher. It is good practice and help her to sing tens of nights in a month. However, it is possible that Arja has lost some part of her original warm singing style.
See the "Audio clips" section on the ArjaWorld links page for samples of Arja's music. Unfortunately there are not so many clips available in the Internet. Due to the copyright fees ArjaWorld itself does not contain any downloadable songs.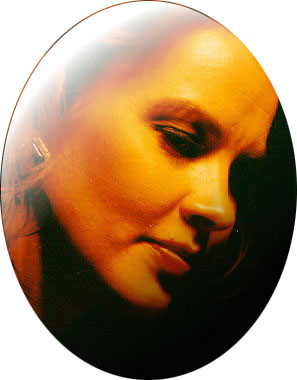 Mrs. Arja Sinikka Koriseva-Karmala,
known as "Arja Koriseva"
Known or well-guessed facts
Was born in the 21st of April, 1965 at 14.40 (the time according to 7 päivää magazine, 1992) into a family in Toivakka in the middle of Finland.
Started doing gigs with her sister Eija and "Peräkylän pojat" band in May 1978.
Has studied singing in Keski-Suomen Konservatorio conservatory since September 1983.
Matriculated at Vaajakoski high school in 1984.
1989 (after 0 years of success)

Miss Arja Sinikka Koriseva took a degree of master of pedagogics at the department of teacher training of the University of Tampere in Hämeenlinna in 1989. But she has never worked as a teacher after her graduation because she...
...won the "Ostrobothnian" competition for the honorary title of Tango Queen in live TV broadcast in Finland in July 1989. The presenter of the competition (Heikki Hietamies) asked about her surname ['koriseva' in English: rattling/(medical) stertorous (breathing)]. This has been the beginning of the her great success.
Began aggressive touring around Finland with her new band Fortuna. Fortuna consisted of Jari Palonen (keys), Veijo Laine (keys), Jouni Hokkanen (b), Timo Kurittu (drums), and Ismo Irva (mix).
Celebrated the 73-year independence of Finland (December 6th, 1990) in annual ball arranged by the President of Finland, Mauno Koivisto.

Tried to be the representative of Finland in the Eurovision Song Contest in 1991 with "Enkelin silmin" (recorded by Arja in 1991) & "Molto Presto", 1992 with "Huomiseen" (recorded by Arja in 1993 and in English as "Hold me now" by Miisa; note it is not the same as Johnny Logan's "Hold me now") and 1993 with "Vain taivas yksin tietää" (recorded by Arja in 1993) & "Sulta laulun sain".
Was the speaker of the "Tee-se-itse-TV" amateur video TV show with Lasse Norres in 1990 - 1992.
Represented Finland in the ABU Golden Kite song contest in Kuala Lumpur, Malaysia in 1990 with "Kun tunteet kuljettaa" (recorded by Arja in 1991).
Performed "Huomiseen" in the World music awards gala in the Monaco Sporting Club in May 1992.
Visited the Romanian Cerbur de Aur song contest in Brasov with "Hold me now" in June 1992.
Got engaged to Juha-Pekka Karmala, a special school teacher in June 1993.
Has lived in "her own hideaway" (~ fortress?) beside Lake Leppävesi in Toivakka since 1993.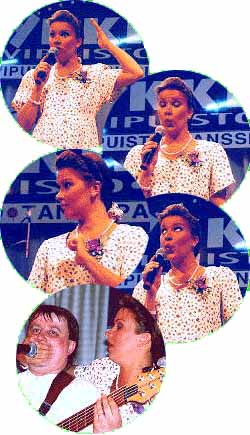 1994 (after 5 years of huge success)

Concertized in Toronto and Sudbury (Canada) in March 1994.
Visited Peter Nygård's paradise in Bahama Islands (with her fiance) in 1994.
Got the founder of Fortuna band Jari Palonen (keys) to sell her gigs. The business expanded rapidly and in summer 1996 he left the band to expand Fortone to one of the most well-known companies in the branch.
The official Fan Club started to work actively, hosted by Saila Bovellan.

Had her own TV show "Näytönpaikka" in 1995 and 1996.
Among other concerts starred in "Tuhkimo - eli KENkä hukassa" 'musical' (a modern Cinderella story) with "Teatteri Eurooppa Neljä" theater team in winter 1995.
Gave birth to Paul Patrik Oskar Karmala in August 6th, 1995.
Got married in July 20th, 1996 and become Mrs. Koriseva-Karmala.
Had a tango concert tour "Tango Illusion" in the fall 1996 with Jyväskylä Sinfonia (Jyväskylä Symphony Orchestra).
Starred 1997 - 1998 in musical "Singin' in the rain" in the Lahti City Theatre (one of the biggest theaters in Finland) as Kathy Selden.
Had a Christmas song church concert tour with Jyväskylä Sinfonia in December 1998.
1999 (after 10 years of success)

Concertized with the Fortuna band for her 10-year jubilee in March - April 1999.
Celebrated her 10-year success with a huge concert in Hartwall Areena in November 27th, 1999.
Lost her most visible player in the band Jouni Hokkanen (b) in 18.12.1999.
Led the "Suuri Luokkakokous" (Den Storre Klassfest) TV show in spring 2000.
Starred in the musical "My fair lady" in the Samppalinna summer theatre in summer 2000 in the city of Turku.
Recorded "All my life" duet with Helmut Lotti in Belgium, the 14th of August 2001.
Lost Fortuna's last original member Timo Kurittu (drums) 28.9.2001 after more than 12 years of playing.
Adopted daughter Karla Sol Angel Karmala (born July 20th, 2001) in October 2001 from Colombia.
Designed a weekly music TV show "Jos sais kerran" and hosted it with Mr. Joel Hallikainen from September 2002 to May 2003.

Was invited again to the Independence Day ball (December 6th, 2002) by the President of Finland, Tarja Halonen.
Left Fortone Productions and hired Milla Kähkönen (as personal assistant; got married in September 2004, nowadays Mrs. Milla Mattila) & Anna Ahonen (as part-time fan club hostess).

2004 (after 15 years of success)

"Fired" her band members in February 2004 and started buying band for her gigs on seasonal basis. In summer 2004, the band was called "Jukka Ruusumaa and Fortuna", named after band's vocalist.
Starred in musical "The Sound of music" in the Seinäjoki City Theatre from August 2005 to October 2006.
Gave birth to Verna Luna Gunilla Karmala in November 8th, 2006.
Continued her actress career with "Sound of music" in the Imatra Theatre from January to March 2008.
Starred as Christine Colgate in "Herrasmieshuijarit" (Dirty Rotten Scoundrels) in the TTT-Theatre in Tampere; premiere was on September 4th, 2008. This is Arja's first musical that is not an old well-known classic.
2009 (after 20 years of success)

Starred as 'Sugar' Kane Kowalczyk in "Piukat paikat" (Some Like It Hot) musical in the Heinola Summer Theatre; premiere was on June 11th, 2009.
Announced to be Ava Gardner in musical "Ava & Frank"; Frank Sinatra will be played by Miro Honkanen. Premiere will be on September 2nd, 2010 in Musiikkiteatteri Palatsi.

Näet ArjaWordin hienompana, jos hankit uudemman Internet-selaimen!